We have Refined Wine CBD and White CBG seedlings for sale.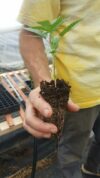 Montalbano Farms is proud to partner with Illinois Hemp Project to offer high quality, rigorously tested and organically grown CBD hemp seedlings for licensed Illinois farmers. Illinois hemp project is a trusted source of reliable, all-natural, high-quality hemp derived CBD genetics. We always push ourselves to be the best we can be and are proud to create products that reflect our commitment to excellence.
Our plants are uniquely grown and carefully selected from the trusted and reliable Cherry Wine strain for the Midwestern climate and are available for pickup on the farm in Sandwich in early June. Our Refined Wine strain carries an excellent flavor profile, is stress resistant and delivers first quality hemp flower.
Our Refined Wine CBD strain is a high-performance feminized hemp seedling. We chose only the finest varietals!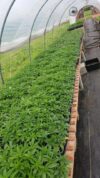 We started with 140 phenotypes and narrowed it down to the top 3 producers. Refined Wine is a cross of two of our favorite cherry phenotypes. In 2019, our farm averaged 1 lb of flower per plant and we kept this variety compliant in total THC by harvesting at 8 weeks while consistently getting over 10% CBD. The CBD content of this strain, of course, depends on harvest, fertilization and climate variables. The rich terpene profile of Refined Wine includes Myrcene, Gerynal Acetate and Caryophyllene. Our COAs are taken at 8 weeks and 11 weeks to provide our customers a more complete analysis.
Our White CBG seedlings were organically grown from seed purchased in the beautiful state of Oregon. White CBG is known for producing very low THC levels, making compliance with state hemp regulations easier to achieve. White can achieve over 10% CBGa and has a colorful terpene profile.
Our plants cost $3.50 and our minimum order is 100 plants.
For more information, including COA, email Farmer Rob at rob@montalbanofarms.com