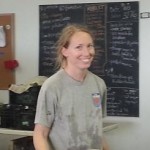 As far as I'm concerned, there are two types of people in this world. Those who like the cold and those who don't. Count me squarely in the latter group.
I just do not like to be cold at all and, unfortunately, I'm cold all the time. Chicago weather in November, even though it has been kind of nice, doesn't help at all. Cloudy, gray skies. Freezing cold nights. Windy. Yuck! Long Johns help, of course, and I've been wearing mine since August. On top of that, Christina and I regularly wear our insulated coveralls pretty much all day long. Still, if you see me gazing longingly in a southerly direction, you'll know that my mind is nestled warmly in San Diego.
On days like this, the place to be on the farm is inside the greenhouse. When we first started farming, we didn't have a greenhouse. Our seedlings were exposed to the harsh weather 24/7 and it was tough. When we moved to our permanent farm in Sandwich back in 2011, one of the very first things we did was put up a house. Good idea.
The greenhouse does lots of things for us. it offers a protected space for our seedlings in the spring. It keeps harsh sunlight, damaging winds, and pounding rainfall away from our young plants and helps us grow vibrant, healthy starts. We grow crops in the greenhouse too. This year, at one time or another, we had lettuce, tomatoes, peppers, ginger, turmeric, spinach, kale, chard, and mustard greens under cover. The greenhouses help us a get a few extra weeks at the beginning and the end of each season. We don't heat our greenhouses (I'm not sure that's a good use of fuels) except for a few weeks in March when nighttime temperatures dip near freezing and the sun's rays keep them plenty warm during the day. Mostly, I like the greenhouses because it's a quiet space, out of the weather, that always smells and looks wonderful.